Main content starts here, tab to start navigating


SEMI PRIVATE & PRIVATE SPACES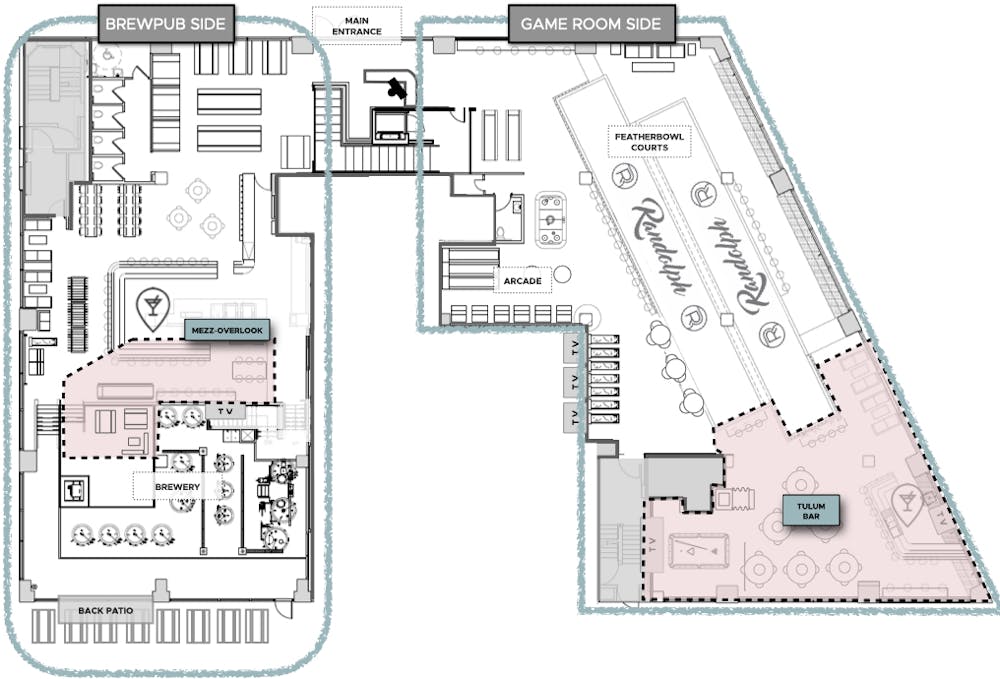 Entire Venue
PRIVATE
500+ PPL
13,000 SqFt event space, brewery, resto-bar and adult fun-zone with a self-serve beer wall, classic arcade games, pinball, skee ball, pool, shuffleboard and of course, NYC's only Belgian feather bowling courts! Tons of space and nooks galore, chef driven hors d'oeuvres, 2 full bars for cocktails, wine and house brews + ample outdoor space weather permitting. The venue is divided into 2 halves that each have their own unique vibe and amenities (more on each if you scroll down). When you book the whole venue you get it all.
GOOD FOR:
Events that want a one-of-a kind NYC experience and a good reason to let loose and play together. We can totally do the fancy, grown up stuff if that's the type of event you want, but if you're looking to make your inner child happy, we've made lots of room for activities here!
PRIVATE
250 PPL
6,500 SqFt 80s-retro, bohemian chic, adult playground with NYC's only Belgian feather bowling courts. There are also nostalgic arcade games, shuffleboard, pinball, pool, photo booth and more. Floor to ceiling, all glass garage doors and widows surround an open floor plan maximized for mingling and spectating. From a seat at the bar you can watch the Brooklyn Bridge and BQE traffic move by just outside the windows as well as the subway cars on the Manhattan Bridge just 30 feet away.
GOOD FOR:
Events that want their childhood dreams realized, all grown up! The bar Tulum area and thoughtful decor throughout the space suit events of all kinds from high-end to casual, however if you're not taking advantage of the games you're kind of ordering a salad in a steakhouse.
PRIVATE
250 PPL
6,500 SqFt open and airy, industrial space with artisanal design accents and an authentic, Brooklyn vibe. A 24-tap, self-pour beer wall (a.k.a the world's greatest beer flight) sits adjacent to a big, U shaped bar that overlooks a sparkling (usually) brewery from which fresh beer is directly piped (plenty of cocktails, wines and other options available for the non-beer drinkers too). Large beer garden tables made from reclaimed bowling lanes and chesterfield couches make up most of the seating. The brewpub also has a shuffleboard table, some arcade games, a massive foosball table and a huge, sun-drenched sidewalk cafe in the warmer months.


GOOD FOR:
Events that want more of a traditional bar/restaurant/event-space vibe (vs. our game room) in an industrial setting where you can actually touch the brewery tanks if you really wanted to. You truly don't need to be into beer at all to have a killer event in this space, but if you are then lucky you!
Bar Tulum
SEMI PRIVATE - GAME ROOM SIDE
UP TO 100 PPL
Super vibey section on the game room side with a private bar and lots of hi-top pub table & perimeter window seating. Its also got a pool table, photo booth, projector screen and floor-to-ceiling garage door windows, which open fully and look out at the Manhattan Bridge underpass and the Brooklyn Bridge entrance.


GOOD FOR:
Events that want the premium package and/or easy access to the feather bowling courts and other games.
Mezz-Overlook
SEMI PRIVATE - BREW PUB SIDE
UP TO 60 PPL
Sectioned off area on brew pub side + an adjoining mezzanine space which both overlook the brewery. This space includes a private section of the main bar plus a few tables and stool seating throughout. It's also got a shuffle board table and some neighboring games, including a 12-person foosball table.


GOOD FOR:
Events that want to be near the brewery and/or those looking for something a bit more intentional than a casual gathering space however don't need anything fancy-schmancy.